MS1400T - Handheld Thermal Imaging Camera
TeleEye's Handheld Thermal Imaging Camera can accurately detect body temperature on persons. Apart from that, the inconspicuous thermal sensor is equipped inside the camera that will bring an advantage. "Uncooled Focal Plane Array" is an optimized sensor which can shorten the processing time on body temperature detection.
Compared to household thermometer, TeleEye MS1400T is able to detect in a longer distance with wide angle of lens. Persons do not need to close up to sensor because the optimal measuring distance can be up to 3 meters. Also, 2.8 inch display is easy to read for users that it can point out the hottest dot and indicate the temperature on person detected. Forehead is captured by sensor automatically making rapidly response within half a second. When a personnel with closing a fever or exceeding the preset temperature is detected, the flashing light alert will be switched by camera instantly.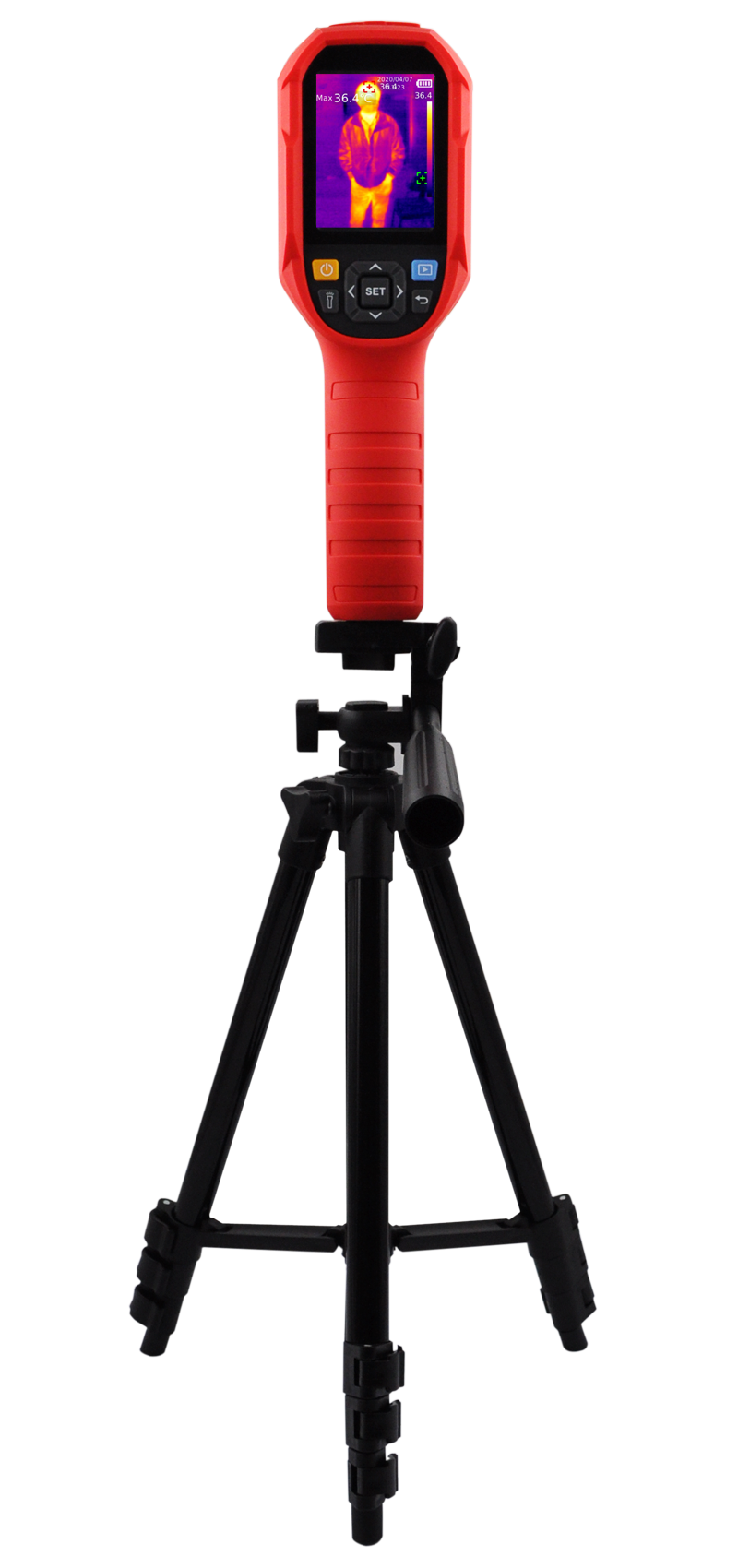 TeleEye has launched 2 software which is designed for optimizing its thermal imaging functions, especially strengthening on body temperature detections. The former is "Basic Version", simple settings provide a stable, long measuring range detection on body temperature.
Another is "Advanced Version", making use of deploying at complicated environment. For some conditions such as people come from different corridors or considerably a wider entrance, so a wider coverage is required where multi detection points may need to set up. Moreover, there is an advantage that it can support more than one camera and multiple screens can be displayed and synchronized by computer software. It is convenient for officers to monitor multi thermal cameras with merger screen on PC. Some environmental factors will influence the accuracy of temperature detecting such as ambient temperature.
To improve the issue above, the upper and lower limit temperature settings can be based on user's preference to make a calibration that eliminated false alarm such as lunch boxes, hot drinks, cups of coffee. The other strong function provided is "Playback". Under video recording, when a person with fever and over the preset temperature is detected, officers not only receive an alarm message, but also can replay the video captured by TeleEye software to find out the symptomatic person.
Single Camera Demonstration Video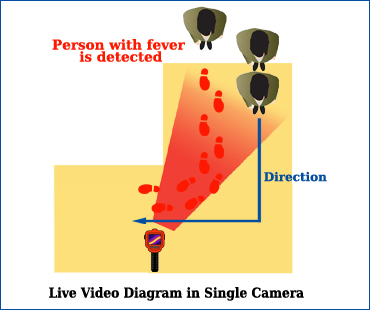 3 Cameras with Advanced Version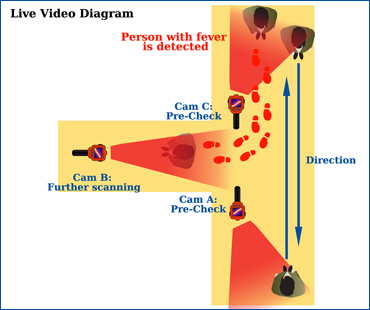 3 Vision Mode to display: Thermal, Visual, Fusion

Temperature measurement range:

Range 30°C ~ 45°C

1 Meter / Accuracy: ±0.5°C and 3 Meters / Accuracy: ±0.6°C

With Temperature Indicator

Over Heat Warning with white LED Lights flashing

1/4" tripod mounting hole (Not Included)

TeleEye software supports the maximum of 3 cameras