GX680 Series – HD Digital Video Recorders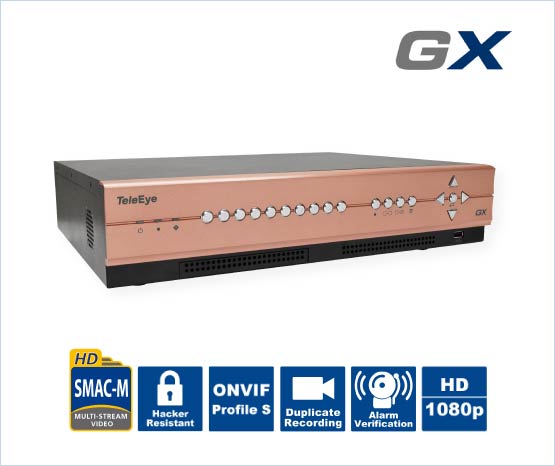 TeleEye GX680 Series is a new generation of HD digital video recorders. It has a range of 4-, 9- and 16-channel models, which are specially designed for faster transmission, hacker resistance, securing all TeleEye's network cameras and other ONVIF Profile S cameras.


All GX models support real-time HD recording up to the maximum frame rate of 480fps at 1080p resolution. Incorporated with TeleEye HD SMAC-M multi-stream video coder which compresses video data up to 50% smaller compared to H.264* so that recording, local displaying and network viewing performance are optimised.
| | |
| --- | --- |
| Model | Description |
| GX684 | 4-Channel 1080p HD Digital Video Recorder, Max. Recording Rate 100/120fps, BS8418 Compliant, Supporting ONVIF Profile S Cameras |
| GX689 | 9-Channel 1080p HD Digital Video Recorder, Max. Recording Rate 225/270fps, BS8418 Compliant, Supporting ONVIF Profile S Cameras |
| GX6816 | 16-Channel 1080p HD Digital Video Recorder, Max. Recording Rate 400/480fps, BS8418 Compliant, Supporting ONVIF Profile S Cameras |
| GX-ONVIF-1 | 1-Channel ONVIF License for GX680 Series HD Digital Video Recorder |