Face Recognition Terminal with Fever and Face Mask Detection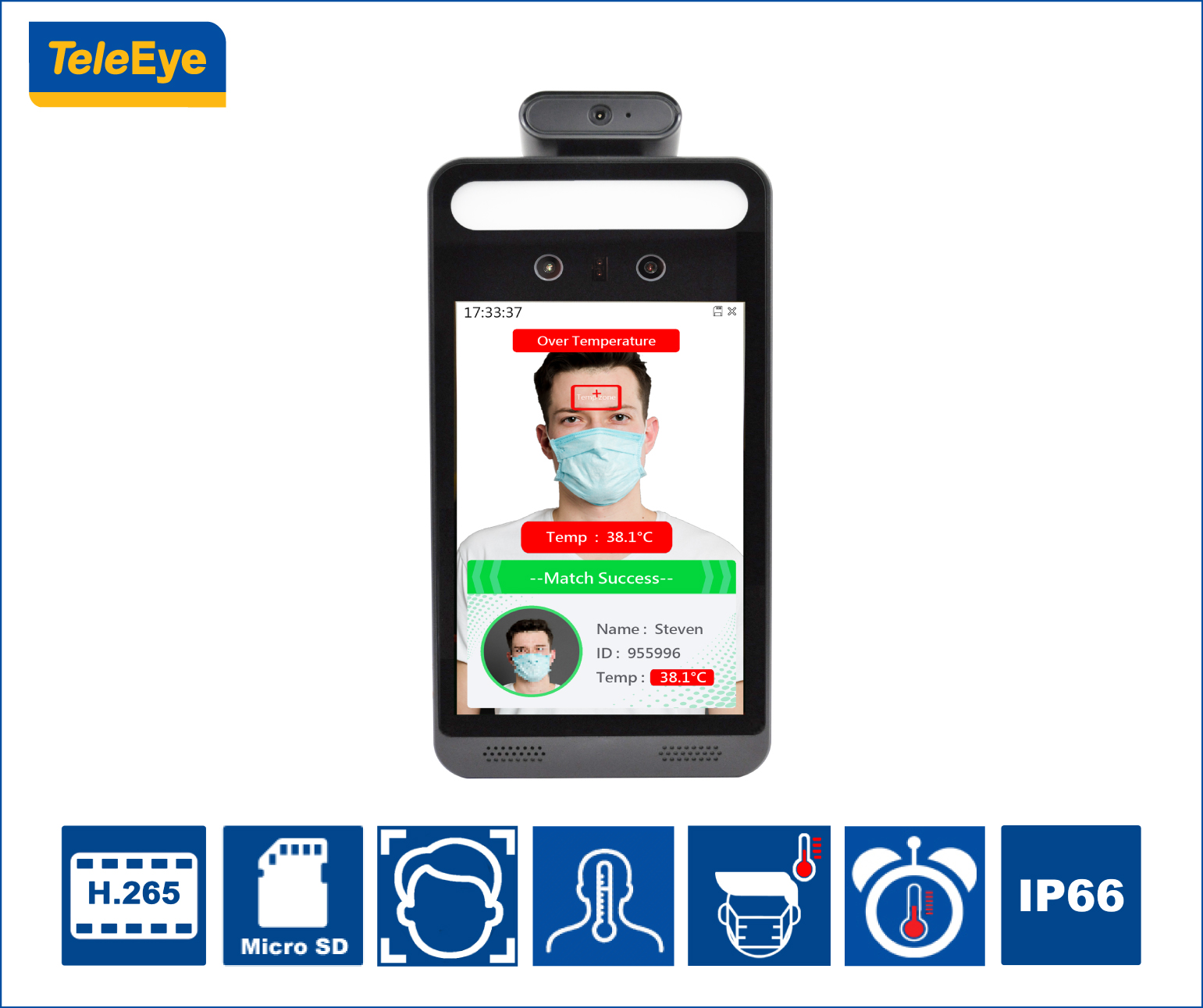 Coronavirus disease is spreading rapidly in the world, even breaking out in the communities and big cities. To confront with the severe epidemic situation, TeleEye has released a new model with multi-functional detection which is able to detect body temperature and recognize human faces.
Compared with model MS1300TW, TeleEye MS1110FT not only detects human temperature but also scans persons wearing face mask or not. Another benefit is the 8" LCD monitor is equipped inside. When a passer without wearing face mask is approaching to the camera sensor, display shows the body temperature and sounds "ATTENTION, MASK NOT DETECTED" warning to remind the person detected at the same time. Of course the setting of "Wearing mask or not " can be based on officer's preference to make an adjustment. If a potential person is close to fever temperature and exceeds the specific temperature is detected, camera will make a quick response and will sound "WARNING, TEMPERATURE OUT OF RANGE" to inform officer by alarm message.
Moreover, there is another powerful function cooperating with body temperature detection, "Face Recognition with wearing face mask". Through the wide angle of lens, face captured by the camera will be instantly processing face matching with internal database. Whether wearing face mask, camera can still recognize to identify the personnel identities. 
Here is a video demonstration divided into 3 parts regarding on body temperature detection with face recognition, face mask detection and over heat with smart detection below.
Fever Detection

Face Recognition and Face Mask Detection

2MP Dual Lens

Temperature Range: 32°C ~ 43°C

With Temperature Indicator

Support LED Warning Light (Not Included)

Recognize people with wearing face mask

Large Database up to 20,000 faces

Support live view & Tamper Alarm
Video (Temperature Detection with Face Recognition)
Video (Face Mask Detection)
Video (Fever Detection Warning)